Well, I bought a lounge chair for my balcony. A very nice one. The reason being I never get outside. I realized recently that this can't be good! To-day I lay out there watching the clouds go by. A beautiful site. Much better than my livingroom ceiling! My point is it was good for the soul. BTW I got this idea from you guys! What do you do to feed your soul?
That is wonderful that you did that for yourself! You gave yourself a throne to look over your kingdom. Congrats.
I have a little area in my backyard where I plant lots of flowers and a little pond and I have my gravity chair there. The guys always want to put stuff there like ladders or bikes and I bark at them. This is where I sit after a long days work and watch the bees pollinate and the gold fish feed.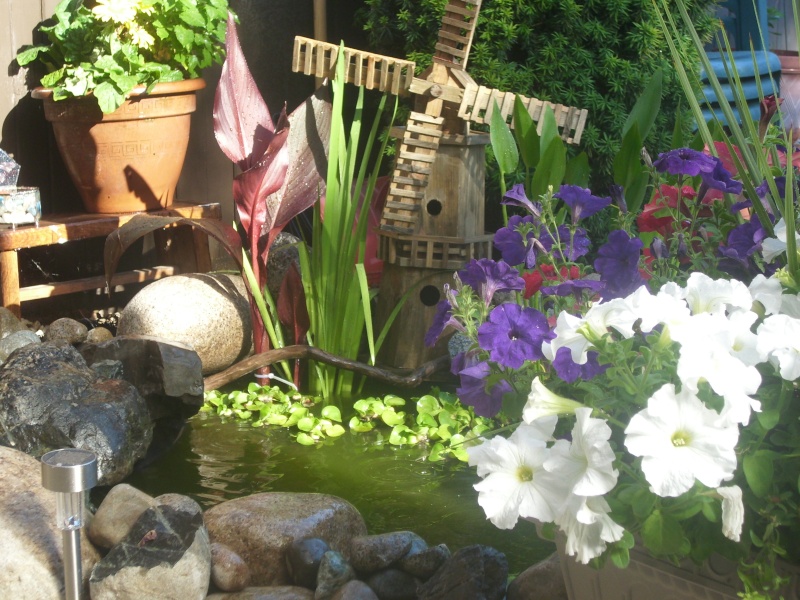 Almostangela




Posts

: 360


Join date

: 2009-12-03


Age

: 55


Location

: Canada



That is beautiful. Did you say gravity chair? That is what I just bought. An anti gravity chair/lounge. Aren't they the best things. Comfortable. A great investment.
I love the garden idea! I would never leave the area if I had one. I sit out in the front yard for hours. I can't believe I am content to do that when I don't feel good. I used to be such a go-getter, now I'm down with the migs almost everyday, thank God I am kinda laid off, only working 2 days a week, and getting some unemployement benefits.

Anyway, I might have to have one of those gravity chairs. Are they comfortable?

sherri b




Posts

: 311


Join date

: 2010-01-03


Age

: 62


Location

: New Wilmington PA USA



We certainly do need to sometimes just say "Screw it"! "I'm getting it because I deserve it"! And then do it. My shop is about 30' from our house and that is where I go to zone out and just focus completely on the current project. I don't have a clock out there or even a stereo. Just the sounds of the critters around me. There is a huge barn owl that sits at the top of a tree right next to the shop and hoots. This time of year the sun sets where I can see it out of my window.
Usually my
raccoon buddy
comes in and begs a handful of dog food. And when I say beg it means he has his paws up on my leg.
I hope everyone has a refuge to hide out for while and depolarize. We really need it even if we don't have a life changing health challenge.
BTW, I Love the water garden! My wife wants one but if put any fish in it we would have post round the clock armed guards on it. The raccoons would think we put in a sushi bar just for them.

Brent




Posts

: 620


Join date

: 2010-01-28


Location

: Rainier WA



The anitgravity chair is wonderful. I can sit cross legged in it and type on my notebook, and I've been known to sleep with an icebag on my head. I think I paid $60.00 and its very well made. Theres room for a big old comforter on those chilly nights.

Brent, you need fish for the PH in the pond, but to keep the racoons out you build up rocks high (racoons don't like to swim or fall in) and I put thin fences over top every night so they can only watch.

Almostangela




Posts

: 360


Join date

: 2009-12-03


Age

: 55


Location

: Canada



Yes, the gravity chair is comfortable. I doubt you could find a more comfortable one! It reclines in any position you would like. I can't stay out of mine and I just got it on Sunday. I got mine at Canadian Tire for $50.00 plus tax. The regular price was $70.00. I didn't know if I would be able to stay in it with this pain. I definately can. I just recline.

---
Permissions in this forum:
You
cannot
reply to topics in this forum